What's New at Dirigo Software
June 3, 2018
Today is the 25th anniversary of the business.
June 1, 2018
I've just been informed that a fierce competitor and fellow US Marine, George M. Bonnett, creator of the REC-TEC AR computer program, has passed on. Semper Fi, George. I'll be joining you in several decades, and then we can both take our positions on the streets of heaven (this is where US Marines go when we pass on - we guard the streets of heaven). My sincere condolences to his wife and family. May he rest in peace.
April 25, 2018
After almost 25 years of being a "Doing Business As" business, I've finally incorporated. As of tax day (4/17/18), Dirigo Software is now Dirigo Software, LLC.
Advertisement:


April 9, 2018
The Vehicle Specs (from the Canadian Vehicle Specs) have been updated to version 2018.1 for AR Pro versions 12 down to 9. Along the same genre, I am working to add the Expert Autostats Lite into AR Pro 12, thanks to the good folks at 4N6XPRT Systems. Need any auto stats? Need more detailed data than is in the AutoStats Lite? They've probably got it! Here is their website: 4N6XPRT Systems.
March 14, 2018
I have discovered that, for some unknown reason, my Version 12 software (which is fully high DPI capable) will not run/display as high DPI capable programs on the newest Microsoft Surface Pro. I'm not sure about earlier versions of the Surface. I'm working with a couple of customers to see if there is anything I can do to help the programs display better on these tablets, but it's a limited ability to get a program to look good at 200% zoom without the high DPI capability working. I will also be letting Microsoft know about this error, and we'll see how well that goes.
February 14, 2018
Did you know that you can change the icon that is shown for the program shortcuts on your desktop? AR Pro has several to choose from, some of which date back to our very first version of AR Pro (called "ARW" [Accident Reconstruction for Windows] back then). Recall and TSB have a couple to choose from. To check them out and select what you want:

1. Right-click on the shortcut of the program you want to possibly change.
2. Select "Properties", which is all the way at the bottom of the popup menu that appears.
3. Click on the "Change Icon..." button.
4. Select the one you want.
5. Click the OK button, then the "Apply" button, followed by the OK button. That's it!
6. This works for all desktop shortcuts, provided the program has a choice of icons to choose from. Enjoy!
Advertisement:


February 9, 2018
Version 12 is released!!!
January 26, 2018
Tested my installation packages with the Windows App Certification program. They passed!! That means our programs can be certified by Microsoft as a program that follows the rules for installation, running and shutting down, as well as uninstalling. Yessss!!! To my knowledge, this is something that none of my competition can match.

That said, it was mentioned that there were a couple of small things that I needed to take care of, and the reworked installations takes care of those small items. Those 2 small items were: missing digital signatures. Now Signed. And, the programs don't shut down without user intervention. This refers to me having the program ask "Shut down "program name". Are you sure?" Microsoft doesn't like this because it means the programs could potentially lose data if it is left running and Windows does an update and needs to shut down to reboot. With my programs asking "Are you sure?" they don't just immediately shut down, which is the preferred behavior. So, I have eliminated the "Are you sure?" prompt in all 3 programs. When you click Close now they all immediately close, as Microsoft requires.
Advertisement:


January 24, 2018
For the first time in a long while, there have been 0 records added to either the Recall or TSB database files. This means there will be no midweek update to Recall or TSB.
December 23, 2017
We will be closed on Christmas day (Dec 25th) in celebration of the holiday. Of course, I will still run activation codes, as I always do. Merry Christmas!!
November 23, 2017
We will be closed today (Thanksgiving) and tomorrow in celebration of the holiday. Of course, I will still run activation codes both days, as I always do. In fact, as of noon time I've already run and sent out 2 activation codes today. So, thanks and Happy Thanksgiving!
Advertisement:


September 12, 2017
Accomplished the following with the Activation Code Request pages, as well as the Removal Code Report page:
I've created and uploaded new and hopefully easier to use and understand Activation Code Request pages to the web server. I've designed them to better highlight the need to select "Extend license" before giving me the Site and MID codes for those who are extending their licenses instead of getting a new code. At the same time, the new pages won't even mention that need if your program is either Locked or Fully-functional Demo mode.
The pages all now have Version 2 of reCAPTCHA (where you click the box to verify you're not a robot instead of typing in gobbledigoop words).
Also, I've pared it down to just 2 pages - one for 64-bit programs and one for 32-bit programs - that covers all Dirigo Software programs.
I've also modified all of the old pages to automatically redirect everyone to the new pages when requesting an activation code, so everyone gets to use the new pages, immediately. That said, I've also updated (and uploaded) all 6 of the Version 11 installations to go directly to the new pages.
I've changed the menu selections under "Activation" to just show the 2 new pages (along with reporting a deactivation, of course).
The Removal reporting page has also been updated, mainly to stop wasting time with submissions without a Removal Code being entered, adding tablets to the computer types selection, and fixing Window version issues.

In addition to all this, I reworked the "Send us a message" on the Contact Us page to not be a popup anymore and it also has the Version 2 ReCAPTCHA.


August 16, 2017
Updated the Vehicle Specifications in AR Pro 11, 10, and 9 to Version 2017.2. The programs will inform you that an update is available upon startup if checking for updates at startup in the Options is enabled. If it's not enabled you can check manually by right-clicking in an empty spot in the program's window and selecting "Program Updates..." from the popup menu.




Advertisement:






February 15, 2017
Finally, I've been graced with a new code signing certificate. Recall 11 and TSB 11 updates have been signed and uploaded. This weekend will see Version 10 and 9 updates properly signed, as well.




November 3, 2016
Due to a sudden issue with folks running my programs on Windows 7 getting access violation errors whenever the programs check for program updates, I have disabled checking for updates using multiple threads for anyone running Windows 7 in my Version 11 and Version 10 programs and have uploaded new installation files to the web server. Anyone experiencing this issue can fix it by downloading and installing the newly updated programs (you don't need to mess with activations - all programs will stay activated). Note that folks running my software on Windows 8, 8.1 and 10 are not affected by this issue (which I believe may be due to a Windows 7 update) and will still use multiple threads when checking for program updates.




Advertisement:






October 4, 2016
This is my official notice to all who use Version 8 software: All support for V8 software has ended as of 12/31/2016, a little over 7 years after their initial release. No updates will occur for any V8 program. Until it is impractical for me to do so, I will continue to activate the V8 programs for licensed users with Windows Versions 8.1 and earlier (V8 isn't 100% compatible with Windows 10 so no installations in Windows 10 will be activated), but no updates for Recalls, TSBs, or Vehicle Specifications will occur. V8 users are encouraged to check out the current version of my software to see if it will fill your needs (and it should, as the current version was built upon V8, as well as V9, as well as V10, etc.). If you have any questions please contact us. Additionally, as of August 16, 2017, I have updated the Vehicle Specifications in AR Pro 11, 10, and 9 to Version 2017.2. AR Pro 8 will NOT be updated.




September 29, 2016
A couple days early, but my Version 11 software is now available for download, installation, and activation. Due to a great number of things popping up this month I don't have the new formulas ready in AR Pro 11 as of yet. No worries, though. I will continue to work on them and they will be in upcoming free program updates. I hope you folks like these programs as much as I do. The programming software I used to create them was updated just 10 days ago, so they have the very, very latest and greatest ingredients. :) Enjoy!




Advertisement:






August 31, 2016
DELETED - Version 11 is now for sale.



August 11, 2016
Updated the copy protection for all 3 V8 programs to a newer version for a more streamlined, quick and easy activation process. Unfortunately, this will require reactivation upon updating. My apologies for the inconvenience.




Advertisement:






July 22, 2016
Due to issues with my V8 software and their inability to save any report settings in Windows 10, I have ceased support for V8 software in Windows 10. The V8 software was created in 2009 in and for Windows 7, and because they will not save report settings they are not 100% compatible with Windows 10. With that, it only makes sense to limit installations and activations to the versions of Windows they will operate correctly in. They (and their updates) will no longer install in Windows 10 and I will no longer activate V8 software in Windows 10. My apologies for any inconvenience. Please note that anyone who cannot run their V8 software in Windows 10 is invited to upgrade to the current version of my software, which was created in and for Windows 10 (but is also 100% compatible with Windows 7, 8, and 8.1). You can find pricing info and the ability to place an upgrade order here.




March 29, 2016
Please bear with us as we move our web site to a new web host and server. After 14 years with the old host they are closing down shop so I've just moved my site to a new host and server. Everything but the FAQ section is up and running great. I'll be working to get that improved upon and running as soon as possible. I will not be using the bulletin board feature any longer - too slow, and I can build a better FAQ section on my own, complete with images. Thank you for your patience.




Advertisement:






February 25, 2016
Uploaded updated installations of the Version 10 software due to an issue the copy protection software could have with Windows 7 64 users. This from their change log file:

Microsoft Windows updates KB3126587 and KB3126593, which were released on 9 February, 2016, are incompatible with 64bit protected applications which require interface dll.
Protected application will display "Interface DLL is missing!" error in case these updates are installed even when interface dll is present.
Affected operating systems: Windows 7 64bit.
This update includes a quick fix for this issue.
Since many other software products are affected by this update there is a possibility that Microsoft will release new update which would resolve these issues. In the meantime we highly recommend upgrading PC Guard and re-protecting your applications.
November 27, 2015
Version 10 of my software has been released and is now available for immediate download and installation. Enjoy!!!
Advertisement:


October 26, 2015
I've had a few questions about the very low upgrade pricing for those who are upgrading from Version 9/9.1 software to the forthcoming Version 10 software. With that, I thought I'd take a few minutes and explain what's going on.

As I'm sure a lot of you folks are aware, more and more software licensing is being put on a subscription plan. As long as you stay paid up on the subscription (usually on a yearly basis) you will get all updates and upgrades for free during the subscription period. At the end of the year you simply pay for another subscription and continue on your merry way. Indeed, all of the programming software I use to create my software as well as the Microsoft Office software I use is now on a subscription plan. With that, I have decided to do something very similar (but not exactly) with my business model. Here is how it will work:
I will put out a new version of all 3 of my software titles once every calendar year.
Those folks/agencies who upgrade each year to the new version will be rewarded handsomely with a very low, "no-brainer" upgrade price. How low? For the foreseeable future, those who have current licenses of all 3 of my programs will pay about $140 a year for SingleSaver upgrades per seat by upgrading from the current version to the new version. This averages out to less than $12 a month for the use of all 3 programs for the year.
Those who are only interested in AR Pro licenses will pay about $80 a year for the upgrade per seat. This averages out to less than $7 a month per seat for the use of AR Pro.
Conversely, those folks who do not stay current and fall behind will have to pay considerably more to upgrade their licenses. For instance, upgrading from a SingleSaver 8 to a SingleSaver 11 will cost $299 instead of $139 (and keep in mind a new SingleSaver 11 costs $399). Upgrading from AR Pro 8 to AR Pro 11 will cost $169 instead of $79 (and a new Pro 11 license is $219). While the differences are not in any way outrageous or unattainable, it clearly makes both financial sense as well as program usability, compatibility, and capability sense to stay current. Those who stay updated each year with the license upgrades will enjoy always having the most current, most compatible and most capable version of my software at all times, and for a very low per-seat cost. Everybody wins!
Advertisement:


August 12, 2015

TSB 9.1 has been uploaded to the web server. Enjoy!!
August 5, 2015

Recall 9.1 has been uploaded to the web server. Enjoy!!
July 31, 2015

AR Pro 9.1 has been uploaded to the web server. Enjoy!!
Advertisement:


July 5, 2015

Due to a death in the family the release of the AR Pro 9 update will be delayed for a week or two. My apologies.
May 28, 2015

The update outlined below on May 19th is complete and the update has been uploaded to the web server.
May 19, 2015

In the process of checking off something on my "To do" list..... Bringing back the variable/constant descriptions for the formulas! This is set up as an option on the Formula Report Editor that can be turned on and off to suit your needs. The option will be on when the update is finished. This should be done by the end of the week so expect an update around then!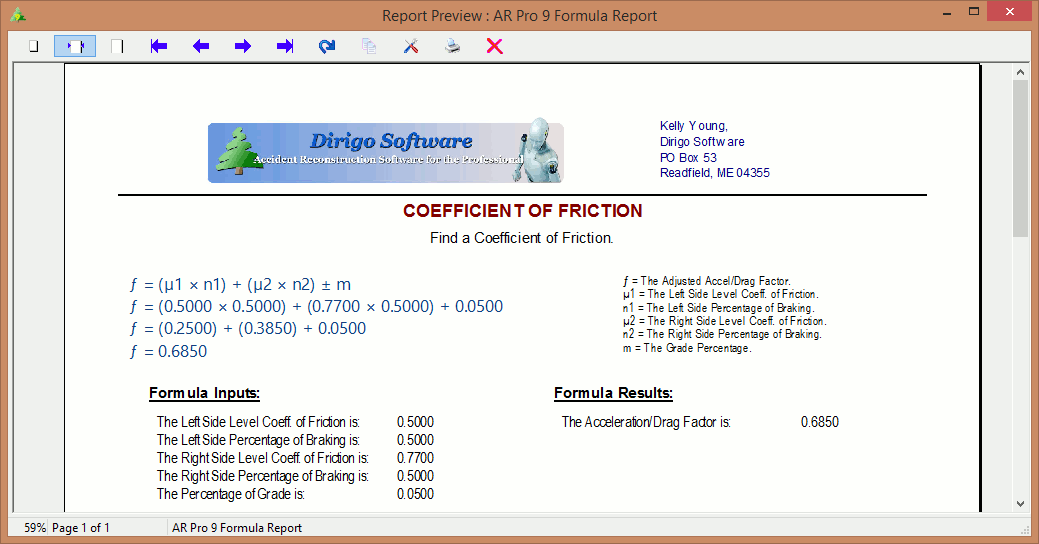 Advertisement:


May 15, 2015

In the spirit of the KISS Principle (Keep It Simple Stupid, which I firmly believe in and try to adhere to at all times) I have combined the installations of both versions of AR Pro 9 into one installation. The installation will automatically install the correct version of the program according to the system it's being installed onto, be it 64-bit or 32-bit. This will take the guesswork away from many folks who aren't certain which flavor of Windows they have on their computer or how to find out. With this update it will always be the correct version that gets installed.
Recall 9 and TSB 9 have also had their installations combined into one and will be uploaded to the web server tomorrow to allow the weekend's database update.
May 11, 2015

Changed the ordering page to list out all of the licenses available separately instead of having to select from a drop-down box for the license you want.
If anyone wants a hardcopy of the program(s) they order we will be shipping them out on USB thumb/flash drives instead of CD's from now on.
Updated Recall 9 and TSB 9 with a button to our Twitter page and also updated all links from the program to our website to the secure (https) side of the house.
Advertisement:


May 6, 2015

Recall 9 and TSB 9 have been updated with the copy protection update.
Created a Twitter account for DirSoft and added the links to the web page. Links in V9 programs soon.
Updated the entire site to a secured (https) site so ALL communications to our web page are 100% secure 100% of the time.
May 5, 2015

Very happy to bring this update to my Version 9 customers!!! With this update there are no changes to the program, itself. Instead, it brings a very welcome change to the copy protection, which is THE END OF SURPRISE LOCKOUTS! Here is the scoop:

Should you miss the 30 day opportunity to extend your activation and then go past the actual expiration of your current activation code what will happen the first time you start the program(s) is they will revert back to the fully functional demo mode. Keep in mind the programs will be FULLY FUNCTIONAL in its demo mode. You will have FULL access and use of everything in the program (unlike my competition) and will be able to use your program exactly the same as if it was activated.

The demo period starts when you start the program after the activation code expiration, whether it's 45 seconds after expiration, or 45 minutes, 45 hours, days, weeks, even 45 MONTHS after expiration.

Once you start the program and the demo begins you start a 15 day or 15 use clock. You have that long to request and obtain a new activation code to extend your activation for another year.

This means no more lost time in a class or in a depo or in court or beside the road at a scene waiting for an activation code because your program(s) locked up.

32-Bit Version 9 users will need to reactivate their programs after installing this update. My sincere apologies for the inconvenience, but the good news is your year will start over upon reactivation and you will be on board with the update outlined above.

Updated the Help file and Manual and Readme file to reflect this awesome upgrade.

You're welcome!





Advertisement:






May 2, 2015

Yesterday saw AR Pro 9 updated. Recall and TSB will be updated early next week.




April 21, 2015

Today we are going live with the ability to have some folks fill in a customer satisfaction survey to see how we are doing. The survey asks just a few questions about your satisfaction with our software and customer service, as well as a spot to be able to give us suggestions or other feedback. Very much looking forward to seeing what our customers have to say!




Advertisement:






April 16, 2015

After months of thinking about it and searching out how to do it in dribs and drabs as of today's date our revamped web site is fully "responsive" to all devices that would look at it. This includes smartphones, tablets, laptops, desktop computers, and even smart televisions.

You folks can now do anything on the devices with small screens (smartphones and tablets) that you could do before on devices with a larger screen, to include browsing around our products, placing orders, even activations and deactivations (which will come in very handy in situations where you need to activate or deactivate in places where you have cell service but no internet service).

Thanks!




Advertisements:






PO Box 53
Readfield, ME 04355
207 - 215 - 7929

© Dirigo Software, LLC. All rights reserved.

This page was last updated on June 22 2018 14:13:08