DIRIGO SOFTWARE, LLC
Accident Reconstruction Professional
for 64-bit Windows 11, 10, 8/8.1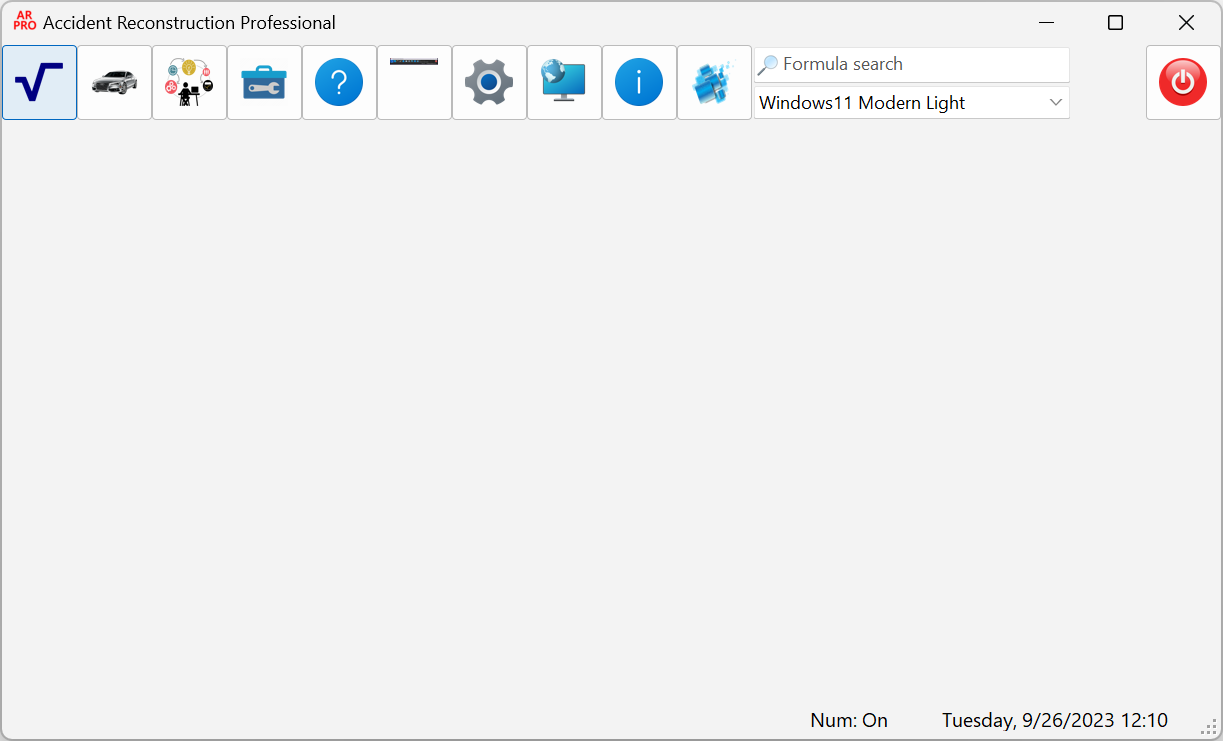 AR Professional 17

AR Pro in Toolbar Mode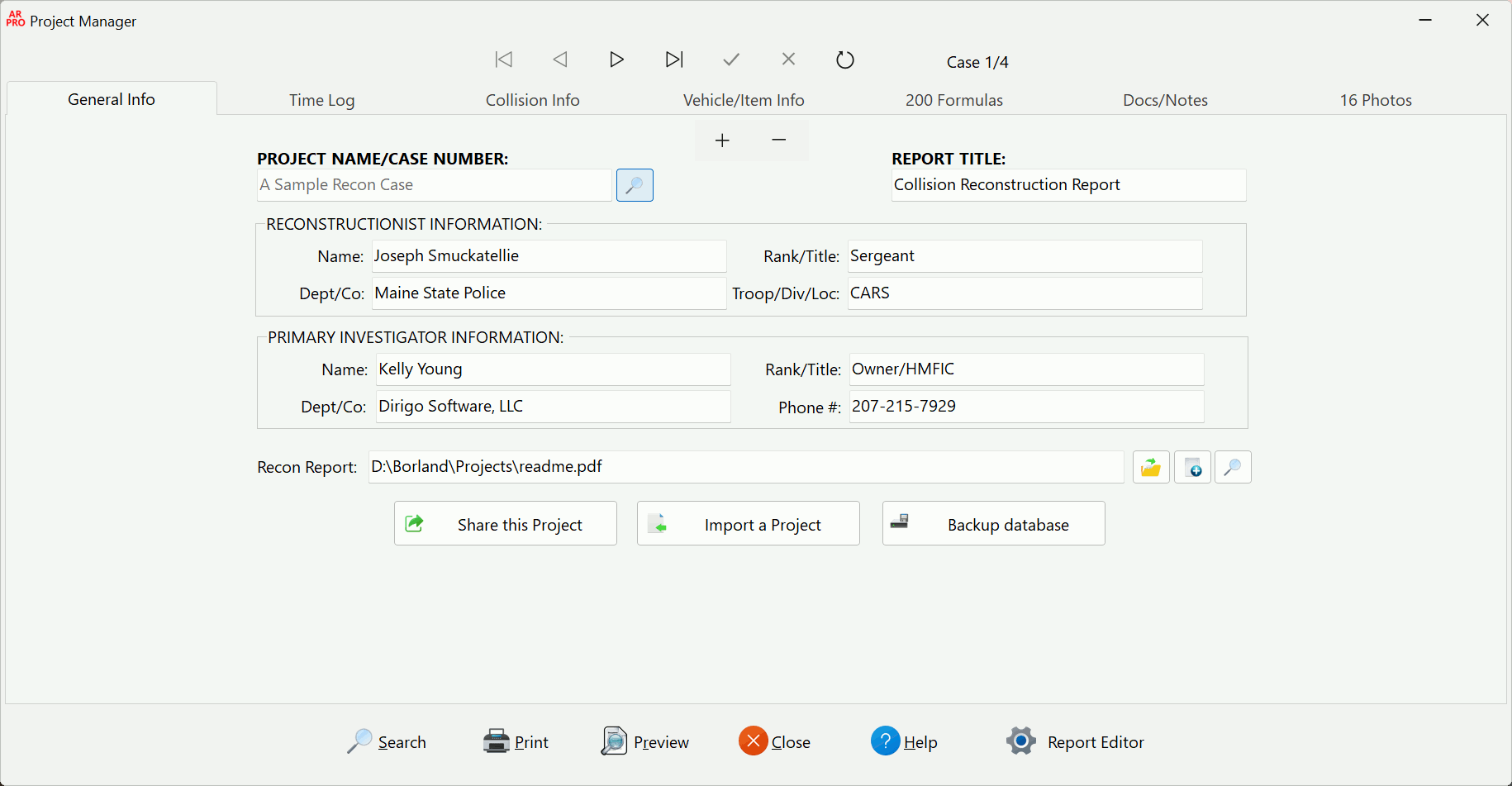 AR Pro's Project Manager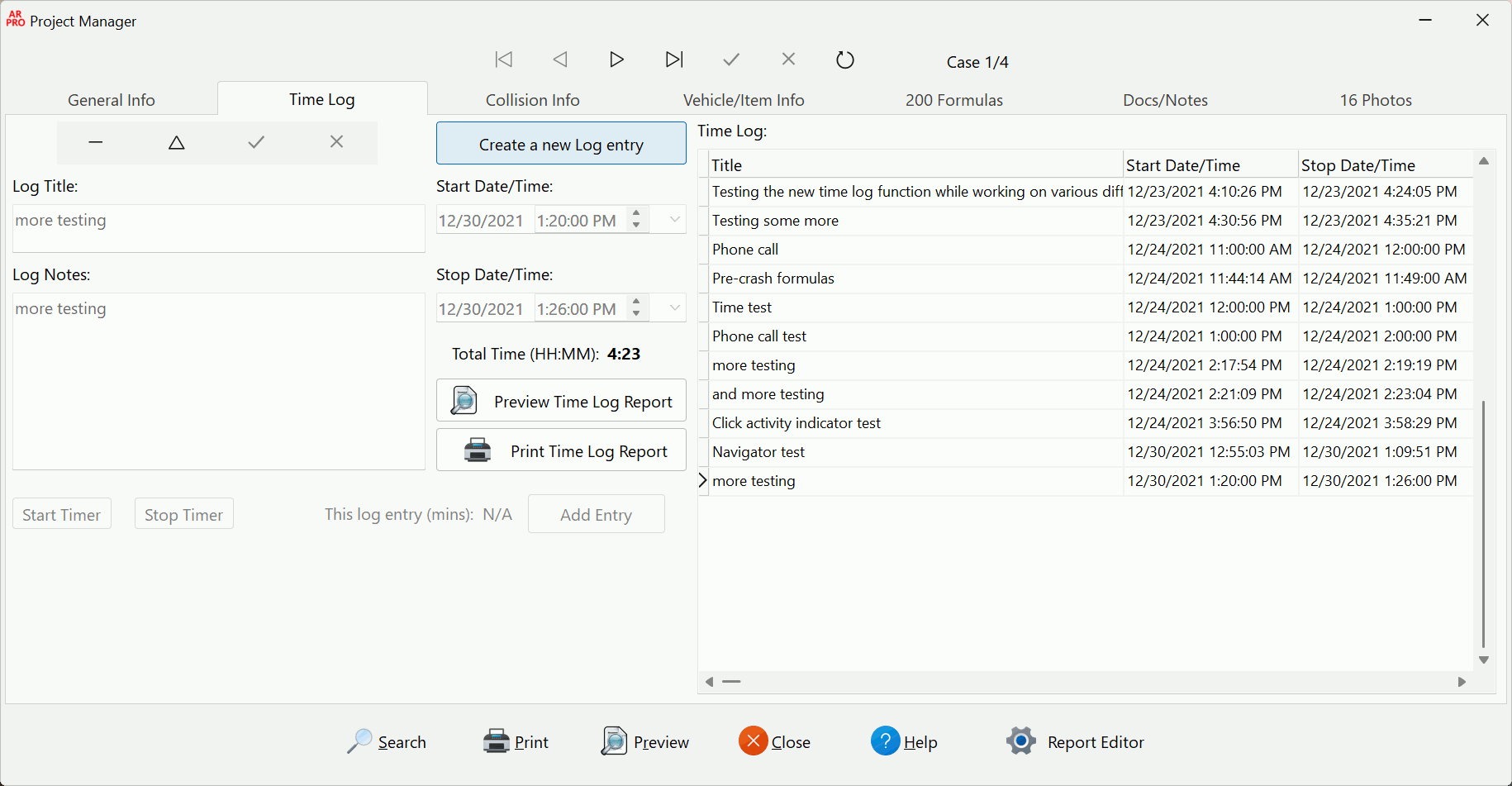 AR Pro's Time Log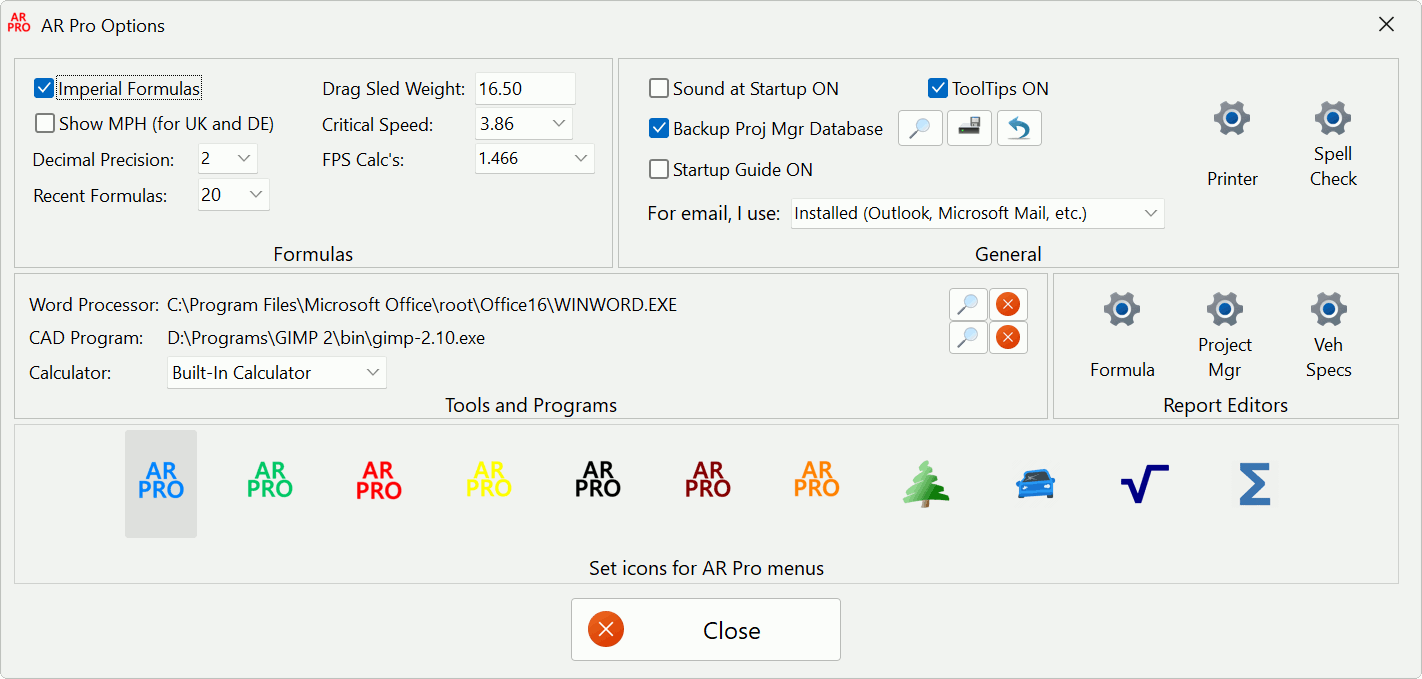 AR Pro's Options/About window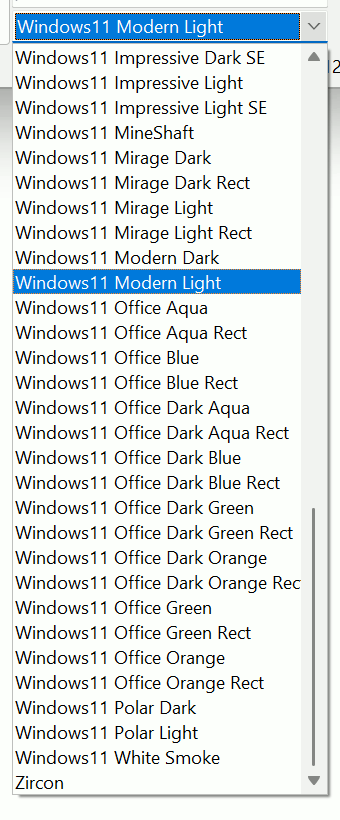 High DPI enhanced Visual Styles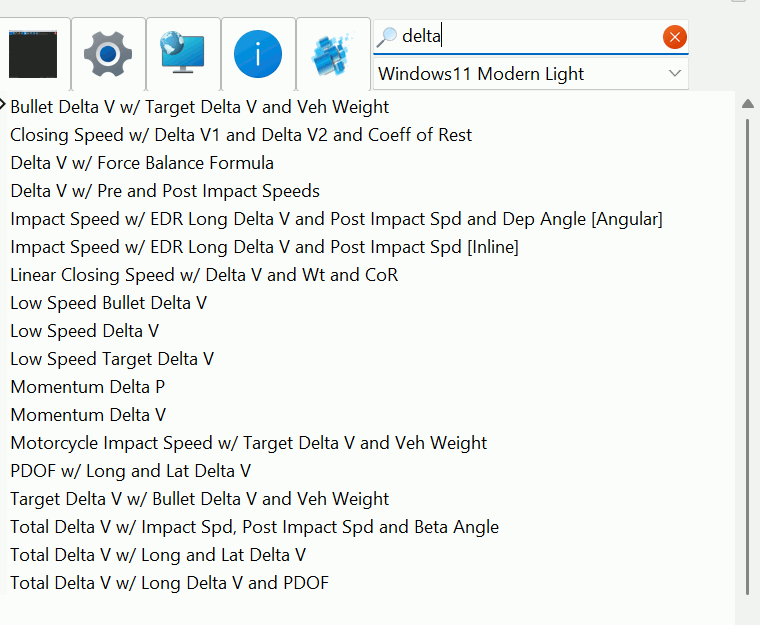 AR Pro's Formula Search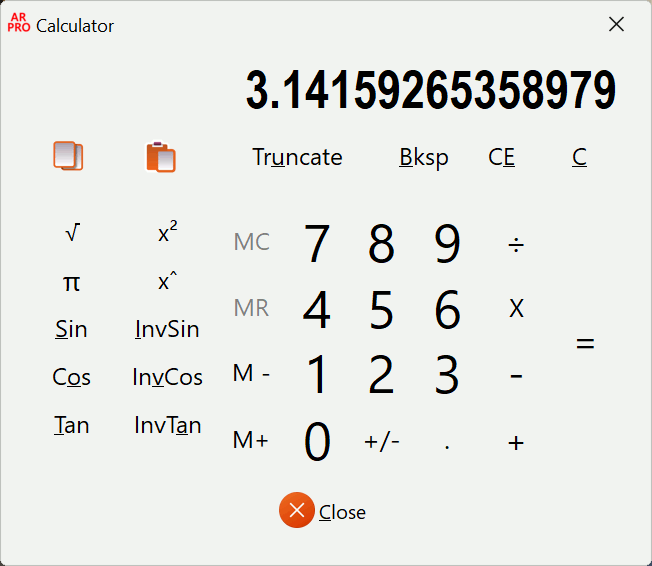 the built-in Calculator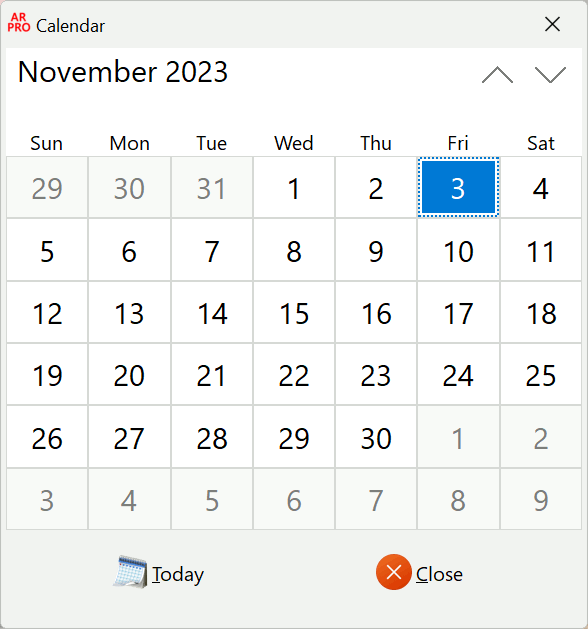 and built-in Calendar

You know you want to! Only $229 a year and ALL updates/upgrades are included!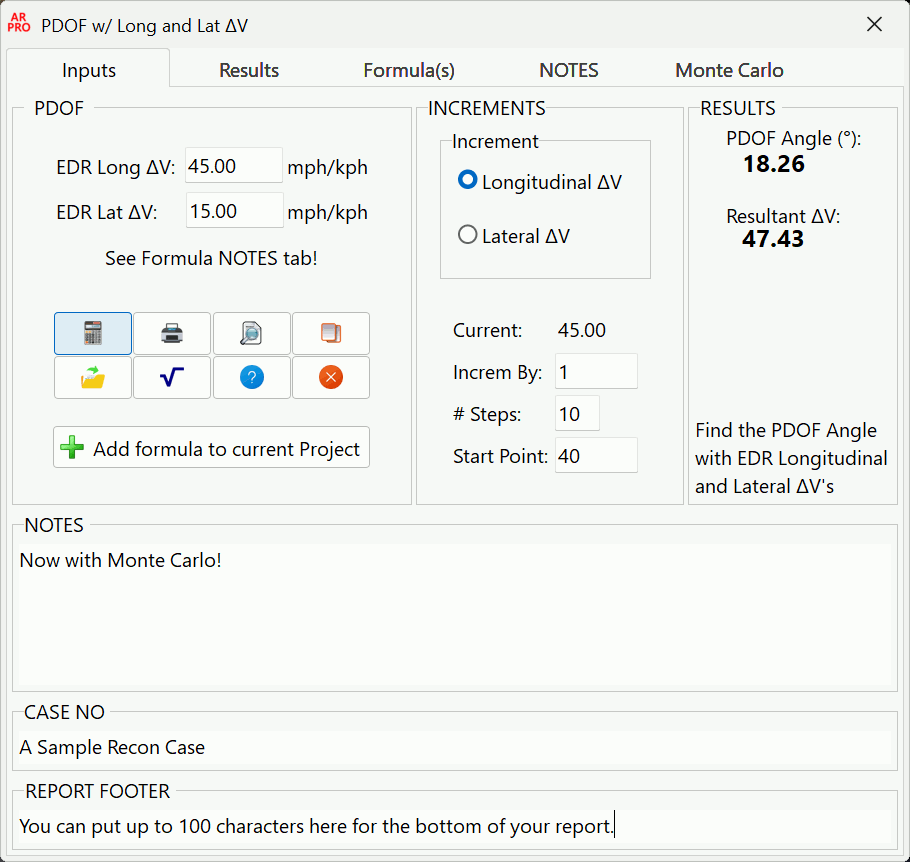 A typical formula, Inputs page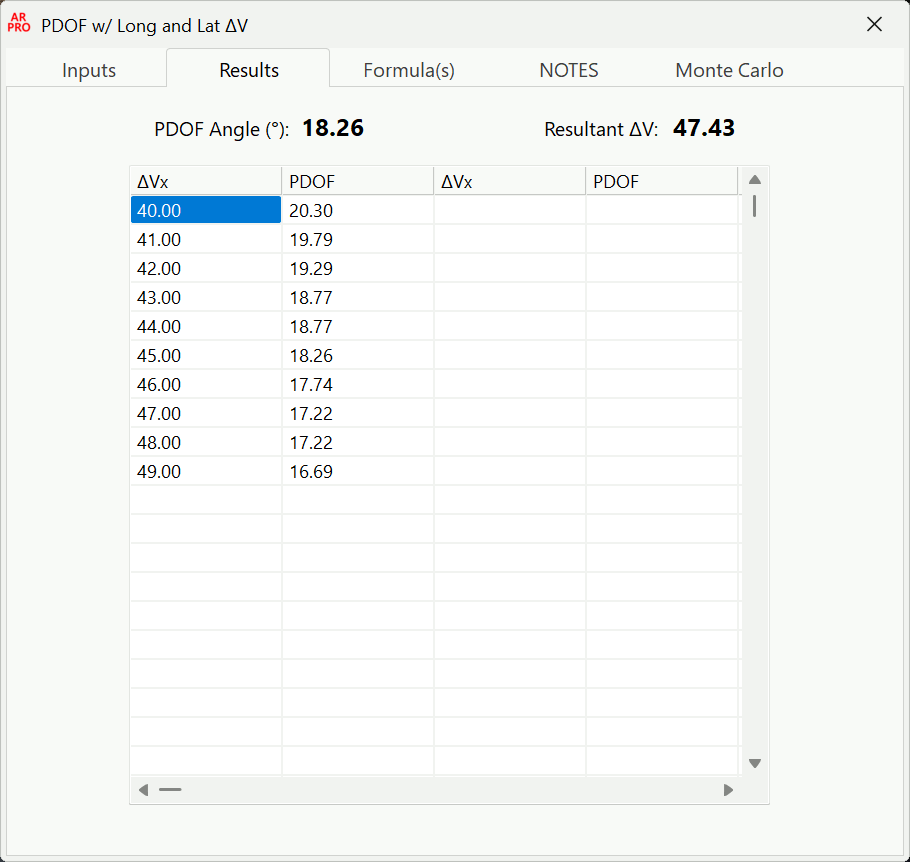 A typical formula, Results page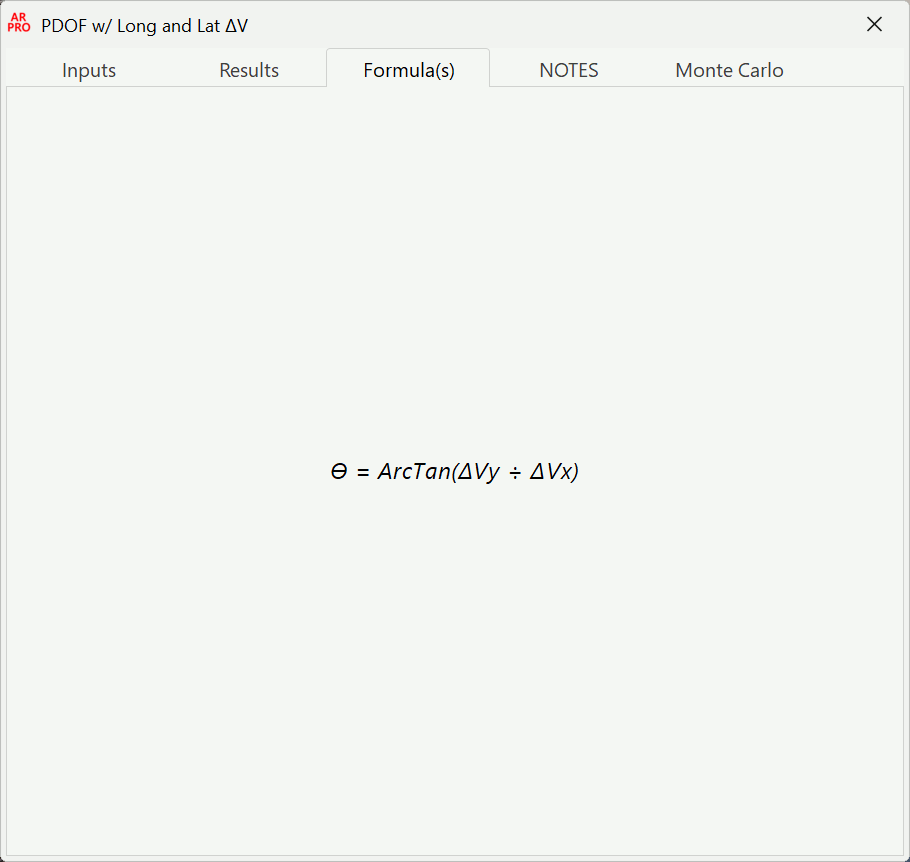 A typical formula, Formula(s) page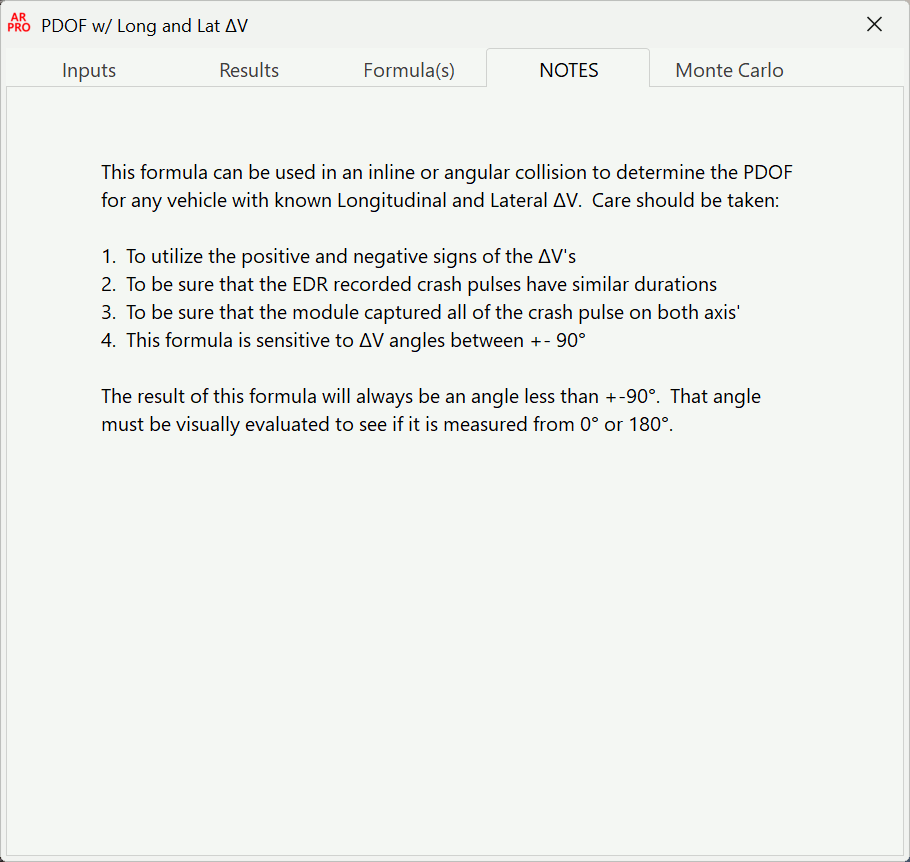 A typical formula, NOTES page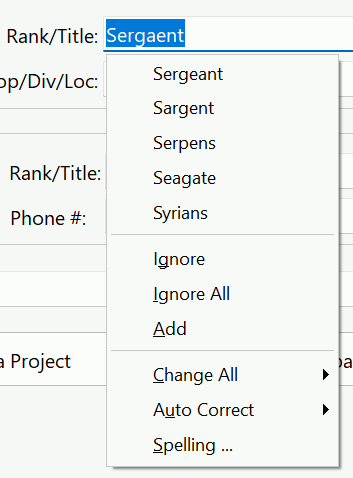 All formulas and most other windows have built-in Spell Check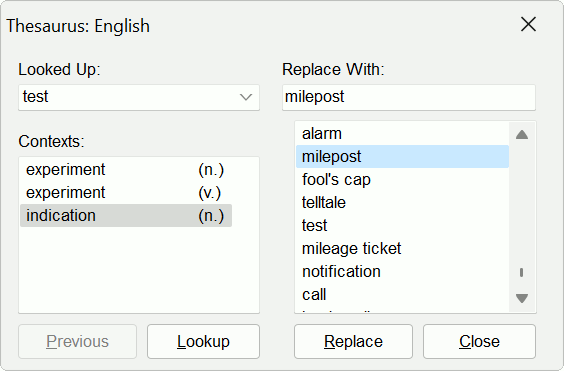 as well as access to the built-in Thesaurus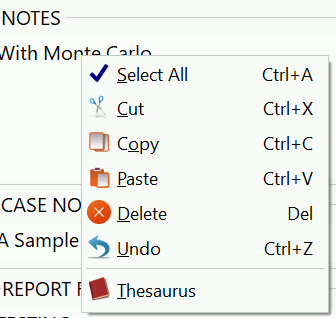 and the Notes section of formulas has its own right-click menu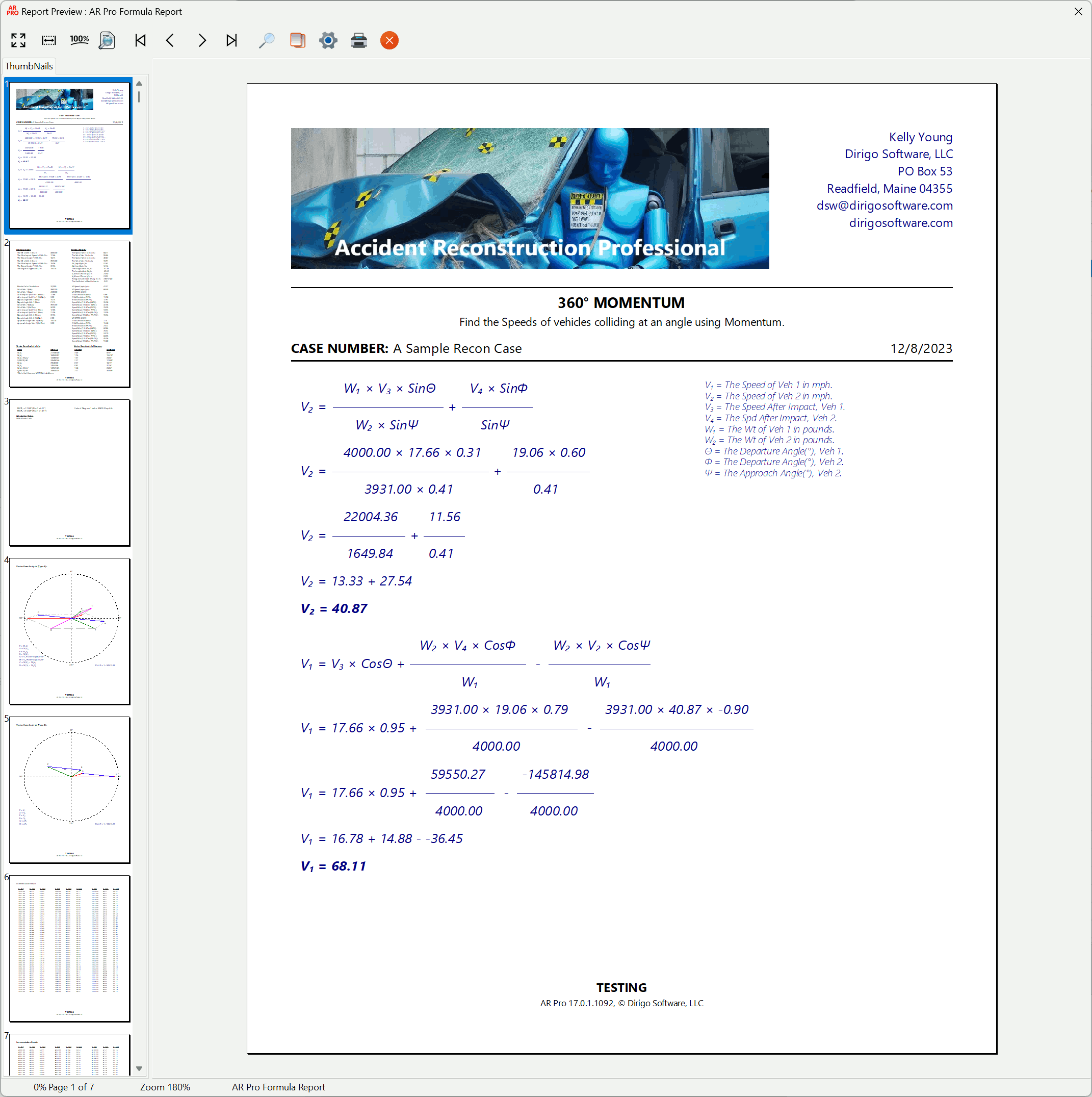 and of course a beautiful and very functional Print Preview for your work

Only $229 a year and ALL updates/upgrades are included while subscribed!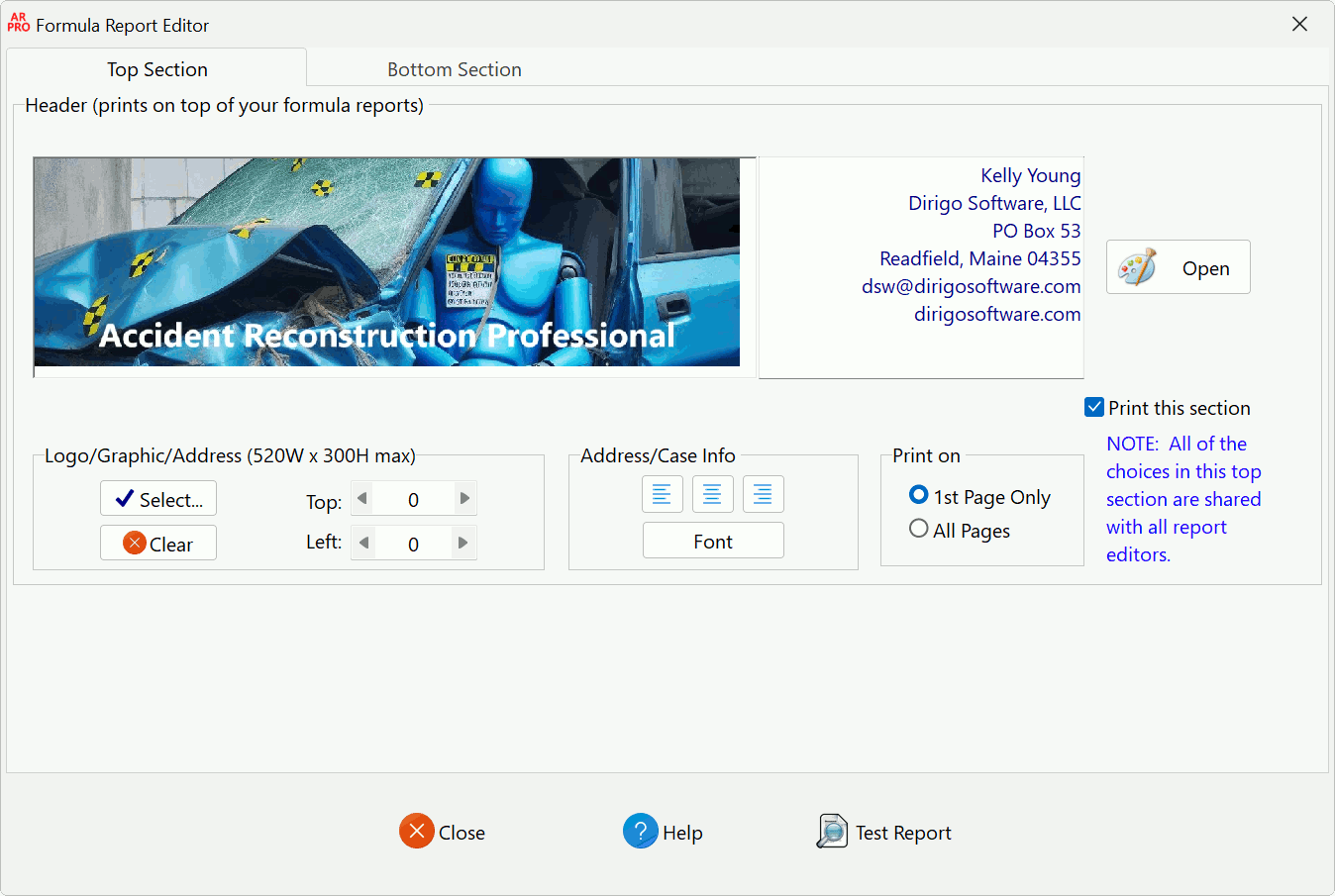 and to make those beautiful reports you need a place to set them up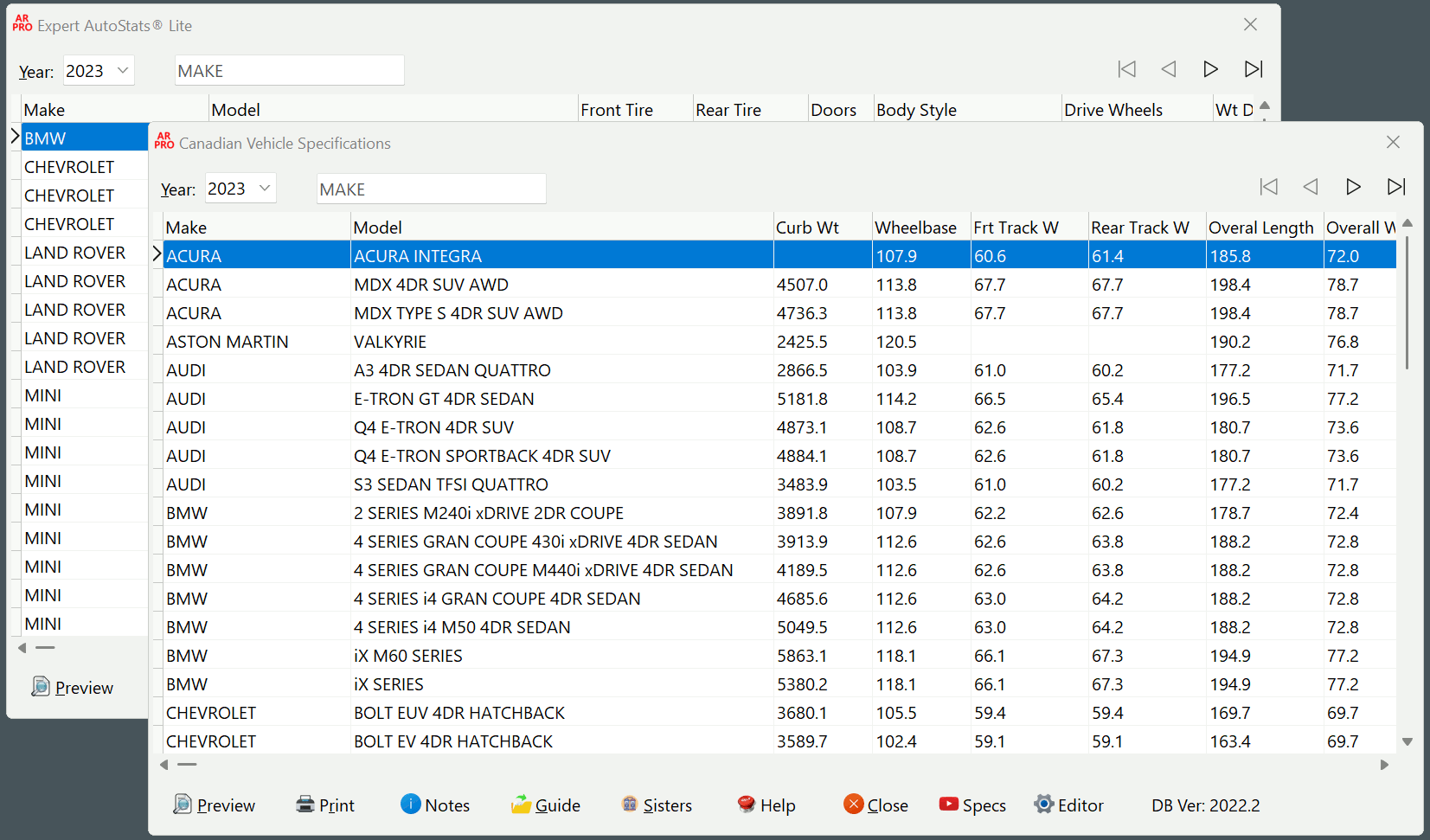 Did I mention AR Pro has 2 built-in Veh Specs databases?
Built-in Recall database
Built-in TSB database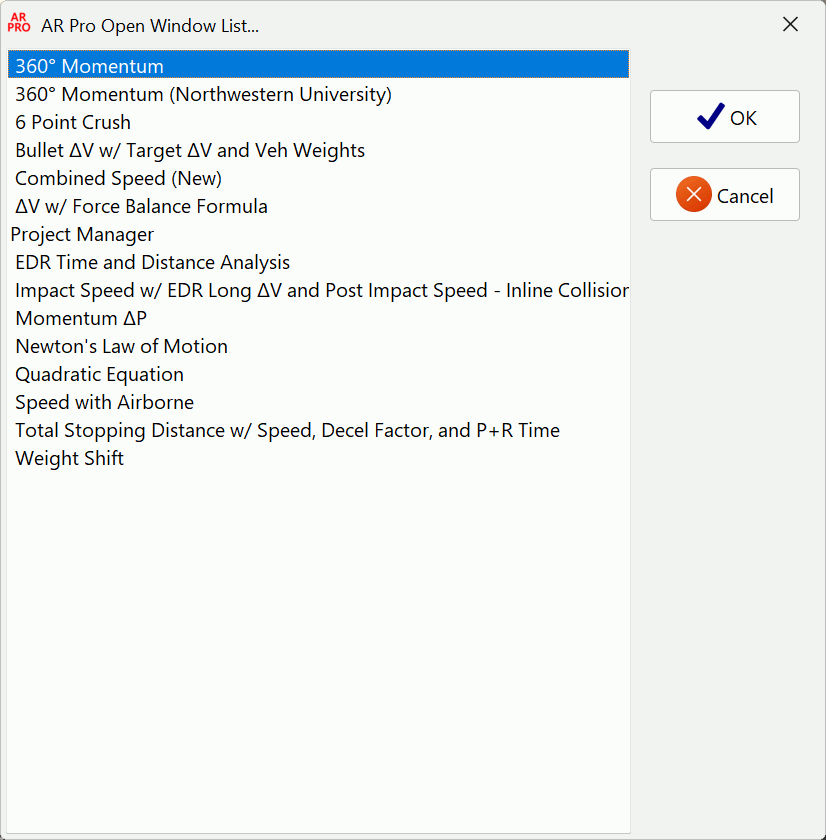 and there's even a window list to help you find what you're looking for when things are crowded.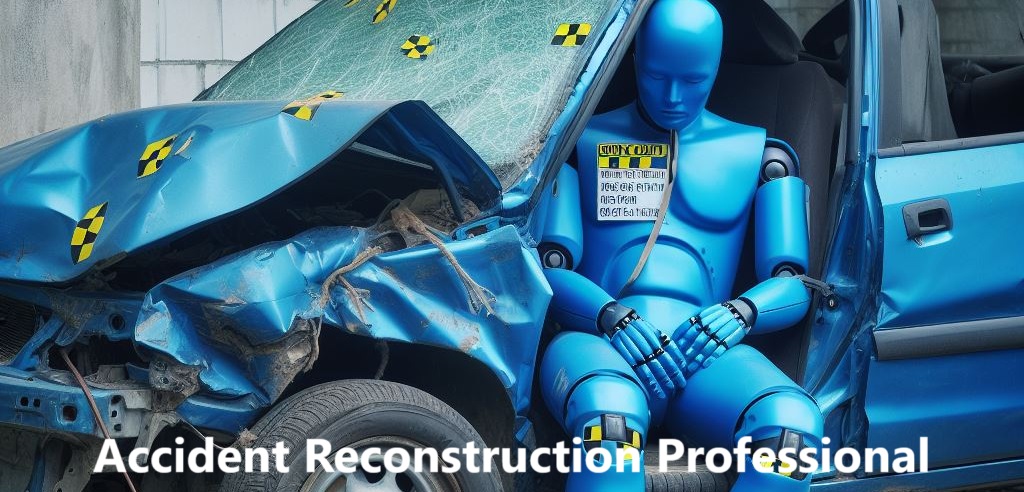 Dirigo Software. Your AR software store!

Less than a Premium Netflix subscription and the end of upgrade fees!
Celebrating a full 29 years on the market!
Accident Reconstruction Professional (AR Pro)
Our modern, ultra high quality Accident Reconstruction formula program!!
New for Version 17, AR Pro now contains the entire functionality of the Recall and TSB database programs, and is available in a yearly subscription for only $229 a year (which is less than $0.63 a day [and less than a Premium Netflix subscription] for all this functionality, and even less per-license when you utilize volume pricing)!
AR Pro will assist a trained Accident Reconstructionist to reconstruct an accident / crash / collision with the use of mathematical formulas and calculations, including recorded EDR/CDR data, acceleration and drag factors and rates, bicycle, distance, energy, momentum, motorcycle, pedestrian, trigonometry, speed, time, heavy truck, and many other categories and problem specific formulas, for virtually any collision involving motor vehicles and automobiles such as a car, truck, motorcycle, bicycle, pedestrian, bus, motor home, big rig, trailer, etc., with eye-popping, court-ready documentation of the reconstruction with our world-class reports.
And now AR Pro also contains the entire Recall and TSB databases!
This software is OUTSTANDING for helping you to study and prepare to pass your ACTAR test.
See our current ad in the Accident Reconstruction Journal: AR Pro Ad

Features:
AR Pro was created IN Windows 11 FOR Windows 11 with the very latest and current programming environment available (February 27, 2023) for maximum compatibility with Windows 11, as well as Windows 10 and 8/8.1.
The program is High DPI enabled, unlike ANY of our AR formula program competition. This is a "per monitor" capability as long as you have Windows 10 Build 1703 or newer.
Includes all of the awesomeness of all previous AR Pro versions.
The user interface for AR Pro has been completely overhauled, reworked and updated and is now VERY multi-monitor capable!
Because of this new capability, users no longer need a large program window as ALL of the "child" windows are no longer restricted to the main program window! You can spread your formula windows (ALL of the windows in the program, actually) over as many monitors as you like! With that, the program has two modes - Toolbar mode and Large window mode. Your choice!
The total number of Visual Styles is ~70 styles, all High DPI enhanced.
As part of my "Zero Hassle Upgrade Initiative" when installing AR Pro, the installation program will check for version 16 user dictionaries, Project files, Report graphics and Report settings on the computer it's installed on. If it finds these files it will automatically copy them into your AR Pro program. This means all of the saved Projects and formulas, user dictionaries, Report graphics and Report settings will be made available to your AR Pro software without you having to push a single button. When you start your AR Pro it will be on your screen exactly where you had your AR Pro 16 set to display and all of your options and settings will already be there for you! You can go straight to work!
Speaking of installations, all of our programs have passed the Microsoft Certification tests, which means our programs meet the stringent criteria set by Microsoft for a properly behaved and working Windows program.
We get it - a lot of work to do and new software takes time to explore and test. We provide a demo for 15 days to explore, test and check out the program. Download Now!!
Plus no fewer than 45+ other changes over the previous version that all add up to one awesome program!
New Formulas added to the new AR Pro since its Nov. 1, 2021 release:

Northwestern University version of the 360° Momentum formula.
Newton's Law of Motion formulas.
Veh Weight w/ Force Balance Formula.
Impact Severity formula.
Truck Braking Lag Distance formula.
And more on the way!

Additionally:
Our software is proudly made in the USA.
Is available only in 64-bit.
Is built with the very latest professional programming tools for maximum compatibility with Windows 11, 10 and 8/8.1.
We use a modern and capable Microsoft approved and trusted installation program.
Our installation program will check our web server at program startup (if this option is turned on in the program) to see if there are any program updates, automatically.
Built-in Project Manager, which helps you keep track of the necessary information on your Reconstruction as well as saving the formulas you run in the project, and allowing a Project record to be exported and imported for sharing a complete reconstruction with a colleague, supervisor, district attorney's office, etc.
The Project Manager has an extremely easy to use and very powerful Time Log function so you can manually enter your time working on a case/project while off computer (phone calls, travel, consultations, meetings, research, etc.) as well as automatically keeping track of your time while running ANY program on your computer (AR Pro, CAD program, word processing, animation software - you name it!).
The Project Manager also has the ability to link to any type of document and images relating to your case/project as well as providing a space for up to 2000 characters worth of notes you'd like to record for a case project.
Built-in Spell Checking and Thesaurus in the areas where you need it.
Technical and Legal words spell check dictionaries for the Notes section, as well as a bunch of international languages for our international friends. These dictionaries include Italian, French, Russian, Spanish, Portuguese, Greek, Danish, Dutch, and many others.
External English to Metric and Metric to English conversion calculator.
Ability to start your favorite Word Processor and CAD software from within AR Pro.
Best of all, this software is EXTREMELY EASY, FAST, and ACCURATE.
Free support (Email is always the best way to contact us!), and all program updates and upgrades are always FREE while subscribed.

Formulas:
AR Pro has a great selection of formulas in both Imperial and metric versions. No need to weed through hundreds and hundreds of never-used formulas to find the one you need to use, nor will you have a yearning for a commonly used formula that is not in the software. You have the formulas you need, which include EDR/CDR, acceleration, bicycle, distance, drag factor, energy, momentum, motorcycle, pedestrian, speed, time, truck, and many other categories.
Formulas are from IPTM, Northwestern University, Texas A&M, and other sources.
Able to run multiple formulas at the same time as well as multiple copies of the same formula.
All formula reports print to a printer as well as copy to the clipboard for insertion into your word processing documents. You can copy or print just the math work, if you want, or the usual full reports. Your choice. Sample Formula Report
Our reports can be printed the size of a postage stamp or with a plotter that puts it on a piece of paper the size of a wall. No jaggies, ever. They always print smooth and nice, no matter what. To our knowledge, none of our competition's reports can do that.
Fully automatic "Most Recently Used Formulas" list that is set up to keep track of 10 to 30 (user selectable) of the formulas you run. And, each user on a multi-user machine will have his/her own list.
Ability to Print Preview all formulas.
Almost all formula reports include ALL of the math work of EVERY calculation.
AR Pro does NO ROUNDING, ANYWHERE. All answers and calculations are truncated from 1 to 6 decimal places (user selectable), to fully comply with your training.
Most formulas have full incrementation that is printable and copyable right along with the math work. Incrementation supports a maximum of 300 calculations.


Recall Database:
NEW as of Version 17, the Recall database is now built into AR Pro!!
The Recall section of AR Pro is the ENTIRE NHTSA Recall Database... all at your fingertips anytime day or night, 24 hours a day, 7 days a week. This is a must have product for what should be the starting point in any reconstruction by either eliminating or confirming that a known mechanical and/or safety defect may have contributed to the collision you are investigating.
Over 174,000 Recall records are currently in the database, dating back to 1949.


TSB Database:
NEW as of Version 17, the TSB database is now built into AR Pro!!
The TSB section of AR Pro is the ENTIRE NHTSA Technical Service Bulletin Database... all at your fingertips anytime day or night, 24 hours a day, 7 days a week. This is a must have product for pointing out and illustrating any known mechanical and/or safety trends and problems that may have contributed to the collision you are investigating. These are often preludes to recalls, as well.
Over 2.6 MILLION TSB records are currently in the database, dating back to 1955.


Vehicle Specifications Databases:
Built-in Vehicle Specifications databases that cover virtually every car and light truck on the road since 1971.
The program has the 4N6XPRT Systems' Expert Autostats Lite Vehicle Specifications database as well as the Canadian Vehicle Specifications database built in!
The databases contains such information as: curb weight, overall length, overall width, etc.
The databases are DIRECTLY accessible from the formulas that need it (Momentums, Kinetic Energy, etc.).
Ability to Print Preview the Vehicle Spec report, and you can also copy it to the clipboard. Sample Canadian Vehicle Specs Report and Sample Expert Autostats® Vehicle Specs Report



System Requirements:
A desktop, laptop or tablet with 64-bit versions of Microsoft Windows 11, 10 or 8/8.1, or a Mac running Windows 8 or higher.
AR Pro will install on a computer with a display minimum of 800 x 600 and 2 GB of system RAM.
The RECOMMENDED minimum of system RAM is 8 GB.
The RECOMMENDED minimum of a video monitor and card capable of at least 1920 x 1080 (HD) resolution.
The installation requires approximately 2.7 GB of Hard Drive space.
Recommended is a Windows compatible mouse.
Also recommended is a Windows compatible printer for printed reports.

Dirigo Software certifies that Dirigo Software, LLC is the sole source for our software.
PO Box 53
Readfield, ME 04355
207-215-7929
Email is the best way to reach us!
BUSINESS HOURS: M-F 10-5 (US Eastern time zone), except holidays.

© Dirigo Software, LLC. All rights reserved.
This page was last updated on September 09 2023 12:05:43