---
Activating/Extending AR Pro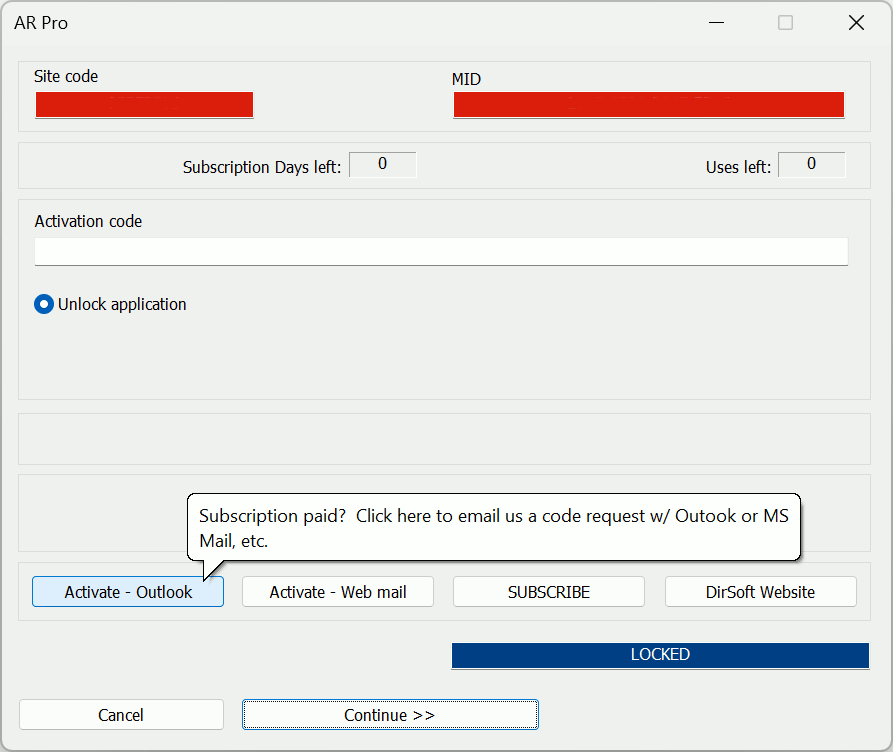 To activate AR Pro, you must have already subscribed to the AR Pro Suite.
To activate a program that is "Locked" or in "Fully functional demo" or "evaluation" mode, please press the "Activate!" button in the lower left-hand of the startup screen.
To extend the current activation for an additional year you must first resubscribe to the AR Pro Suite. Once resubscribed, please first select "Extend license" then please press the "Activate!" button in the lower left-hand of the startup screen.
That button will take you to the Product Activation page of our web site. If this computer cannot connect to the internet, you will need to do the online Activation process from a computer that can connect. Once at the Product Activation page, you need to fill in all of the requested information on the Activation page with the information displayed on your AR Pro Activation screen so that we may verify your request for an Activation Code. Once verified, your Activation Code will be e-mailed to you at the e-mail address you provide during the Activation process.
To activate your program with the code you received via e-mail, it is best to copy and paste the long code from your e-mail message into the "Activation Code:" input on the activation screen. This will help to prevent a mistake in typing in the code. If you make a mistake, however, simply re-type in the code until the program accepts it.
Also:
If you wind up going past the expiration of the activation code the program cease to function.
Activation codes expire one year from your subscription/resubscription date, not from the date you requested an activation code.